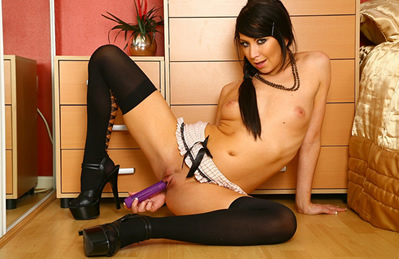 Suburban amateurs
Housewives, secretaries and bored housewives all dressed up in the sexiest lingerie and getting fucked. If their husbands are not fucking them they take matters into their own hands and do it themselves. For good quality photos and movies then check out suburban amateurs here today.
Skip review and go to Suburban amateurs
Full Review of Suburban Amateurs
When one thinks of a suburban housewife they think of prim and proper houses, neat gardens, a husband, wife and 2.5 kids. Well, that is how people think of them but that is hardly the case. SuburbanAmateurs.com show what suburbia is really like, naughty British amateur women taking their clothes of and enjoying themselves in front of the camera.
However, SuburbanAmateurs.com could have done better in their portrayal of the great British amateur. The site itself looks good (the design, navigation etc) but some of the models leave a lot to be desired and some of the scenes are what you would expect in your own bedroom, not a porn site!
The movie and picture quality however is good; they have recently upgraded their movies to Windows format which makes videos a lot easier and much more enjoyable. There are well over 850 picture sets and all of which contain at least 80 pictures. This means there is plenty content for both new and old members which is good in many ways. Their old picture and video method was terrible and some of the older content does reflect this.
The videos on the site can be downloaded from the site and saved to your computer or you can stream them from the site which ever way you prefer the videos do come in an impressive 352x288 resolution and 1040kpbs speed.
As said previously there is very little creativity in the scenes. The site features very little boy on girl and girl on girl action with more solo content than anything else. As for the type of site SuburbanAmateurs.com is I would definitely think of it as softcore, although those very sexy British accents could make you forgive all the faults.
When you join the site for the monthly subscription fee of $29.99 you also get access to six other sites; Suburban Sluts, Viv Thomas Videos, Uk Amateur Galleries, One Eyed Jack Videos, Uk Amateur Hardcore and Viv Thomas Photo's.
A few words to describe the site would be; British women moaning and masturbating and enjoying hot solo action. There isn't much else to say other than for those with a thing for the Brits then this site is definitely for you.
Sabrina's Stockings membership fees:
1-month (recurring): $ 29.99
60 days (recurring ) $54.99