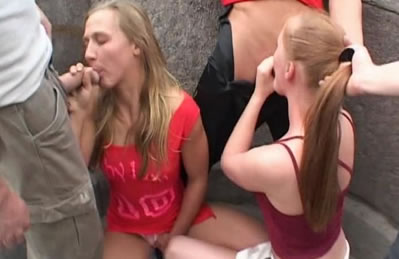 Terry Vision
Terry is a hung black pornstar. Women fawn over him, whether they're in the business or not. So, Terry decided to take advantage of that and make an amateur site. He finds girls all around the UK, usually in a public place, and gets them to get naughty..
Skip review and go to Terry Vision
Full Review of Terry Vision
Get ready to enter the daring world of public nudity and outdoor group sex. Terry Vision is an all exclusive site with content filmed on the streets of London. In fact, arrests have been made during the filming for this site and Terry just keeps going. He pushes the limits and what started out as just public flashing has gone into the realms of peeing in front of construction workers and blowjobs on busy streets. This site features a lot of crazy public nudity, sex in the underground, and so much more. Even more shocking: nearly every scene is filmed in broad daylight!
The greatest thing about this public sex site is that the models really enjoy themselves. Just think about it: you have to be very dedicated to your craft to go out and get fucked on a street while people react with horror, amusement, and pleasure. There's nothing fake about these scenes, especially not the thrill the ladies enjoy as they fuck just feet away from random passersby. Because this site shoots such raw footage, it isn't updated on a regular schedule. However, there is an archive of nearly 150 scenes available to tide you over until the next release. Typically, you'll get a new outrageous public sex video once or twice a month. If the producers shot these types of scenes all the time, Terry would probably be locked up for good.
Terry Vision has recently gone through a massive overhaul of both the tour and members area. The content, once only available in a single WMV file, can now be downloaded in many different ways. You can stream the videos in your browser in clips or as a whole and download the files in various levels of quality. There's even an MP4 option that allows you to play the videos on your portable devices. Maybe you can partake in some daring activity yourself by watching the videos in pubic.
We were happy to take a second look at Terry Vision. This site, which has always had good content, is now much better because of the improved navigation and multiple download options. Now everyone from broadband to dialup can enjoy this filthy public smut. If you want to see hot girls getting fucked on the streets of London, Terry Vision is your only real choice.
Terry Vision membership fees:
30 Days access @ $29.95 recurring
30 Days Membership @ $49.95 recurring (access all sites)
90 Days access @ $74.95 (non recurring)
180 Days access @ $99.95 (non recurring)