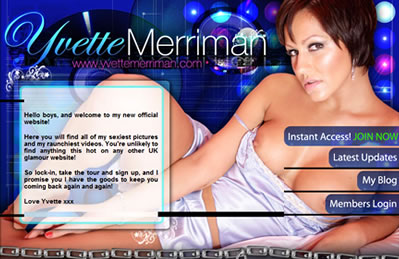 YVETTE MERRIMAN
Yvette Merriman is certainly one of the hottest U.K. Models you will ever find. Not only is she extremely beautiful, but she exudes sexy from every pore in her body.
Skip review and go to Yvette Merriman
Full Review of YVETTE MERRIMAN
You may have seen her on Babestation but on her exclusive website, you will find her being naughtier than you've ever seen. Truly, her website is one of the best glamour model sites you will find online.
Yvette is a busty and sexy brunette with a contagious smile. She always looks happy and horny at the same time. Perhaps that's because when she is horny, she is truly happy. You can tell she enjoys being naked and showing off her curves. She has a nice rack and she loves to show off her tight ass too. You won't find a more natural beauty than Yvette no matter how hard you look.
In Yvette's members only area, there are thousands of high resolution pictures for your perusal. She loves to model in all sorts of different places and always in very sexy outfits. Sometimes she likes to pose outside in broad daylight, with the possibility of someone seeing her naked. It doesn't bother her though, she's proud of what she's got and she likes to flaunt it.
The videos are extremely sexy and all in stunning high definition. You will find Yvette getting naughty in all sorts of ways. She has sex toys and she even has hot girlfriends who like to come over and play. The videos are all 100% exclusive and only available on Yvette's site. You won't see them on Babestation or anywhere else.
Her blog is updated often to let you know of upcoming updates and other interesting things. She is always interactive with her members and loves to hear from them. As stunningly beautiful as she is, can you not see why the guys are just dying to talk to her? The member's area fee is more than worth it and you will enjoy Yvette more than you can ever imagine.
Yvette Merriman membership fees:
30 Days access @ £22.50 (recurring)
60 Days access @ £45.00 (non recurring)